upcoming events
Hoping to see you at one of our upcoming One Voice Chorus events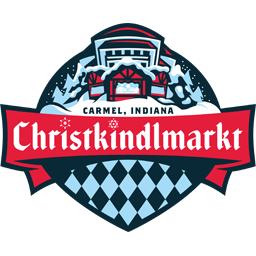 Carmel Christkindlmarkt
10 Carter Green, Carmel, IN 46032, between The Palladium (1 Carter Green) and The Tarkington Theater (3 Carter Green)
One Voice was very excited to be chosen to perform at Christkindlmarkt this year, not once, but twice! We had a wonderful time and really enjoyed the enthusiastic audiences. We hope to get the chance to perform there again in the future.
The Carmel Christkindlmarkt is an open-air Christmas market in traditional German style. It will be open Nov. 20 – Dec. 24.
The Christkindlmarkt is dedicated to creating an authentic German market with products sourced from Germany and other German-speaking European countries. You will find a blend of traditional German foods and gifts being sold from small wooden huts, and the market surrounds a beautiful outdoor ice skating rink.
Visit the Christkindlmarkt website for more information including hours of operation and the schedule of events and entertainment.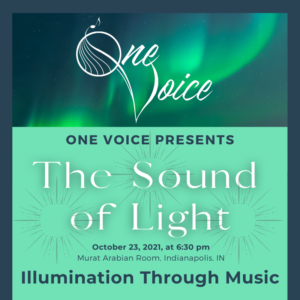 One Voice Cabaret – The Sound of light
***** POSTPONED *****
Murat Center, 502 N. New Jersey, Indianapolis, IN
Due to the current situation with Covid-19, we have made the difficult decision to postpone our show to a future date when it is safer for us all to gather and celebrate music together. Please check back for updates.
If you have purchased tickets already, we will be in touch about how you want to handle the disposition of your ticket purchase. Thanks for your understanding.
We are closely monitoring the Covid-19 situation and will comply with local and state restrictions in regards to attendance and masks. Should the Cabaret be cancelled due to Covid, presale tickets will be refunded or you can designate the ticket sale amount as a tax-deductible donation to One Voice.
As added precautions, we will be asking all audience members to wear a mask, will position the front row of seats a safe distance from the stage, limit seating, and any snacks provided will be pre-packaged.
Join us for a fun, musical evening cabaret! Appetizers and a cash bar will be available.
PURCHASE TICKETS
Presale ticket prices are
– Adult – $20
– Student/Child – $15
– Reserved table for 6 – $150
At the door ticket prices are
– Adult – $25
– Student/Child – $20
Discounted Murat Lot Parking "tickets" are available for $3.
Art on the Prairie
Sunday, August 22, 2021 10AM – 5PM
Conner Prairie, 13400 Allisonville Rd, Fishers, IN 46038
One Voice had a great time performing at this event, despite the heat! We hope you had a chance to come out and enjoy it, too.
Art on the Prairie is an annual fundraiser for the Fishers Arts Council. Join us outside at Conner Prairie and enjoy local artists and artisans, live music and more. The event is included with your Conner Prairie admission. No registration required.
Map and the lineup of performers and artists are available on the Art on the Prairie web page.