We have an ideal gift for someone in your life! Support One Voice through our VideoGram fundraiser and
Send a Singing VideoGram for just $15!
Our selection of VideoGrams are perfect for saying what you want to say through the gift of music.
A fun Happy Birthday greeting; a peaceful, loving Thinking of You greeting; a lighthearted Friendship greeting; or a fun Valentine or winter Holiday Greeting will make their day brighter! Your recipient will receive an email with an appropriate message and a link to the selected video.
Once again this year we will be donating 50% of all VideoGram sales in December to Gleaners Food Bank in Indianapolis. Gleaners' mission is to lead the fight against hunger. They do this by distributing food to hungry Hoosiers through a network of over 250 partner agencies in 21 counties, including emergency food pantries. Last year we were able to donate $500 which provided over 2500 meals to Hoosier families! We would love to exceed that this year, with your help!
Click to Order Now!
Here is what people have to say about our Singing VideoGrams….
"We watched it together and thought it was fantastic!!! Just smiling thinking about it!!"
"AWW!! I absolutely LOVED it!!! So cool! Also loved the cute dancing legs and feet in there. So much fun! Thank you, thank you for making my day so special!!!"
Click on an image below to preview clips of our current VideoGrams.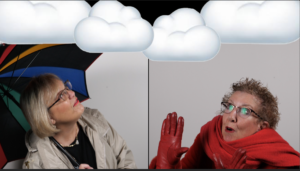 You can order now for future delivery, too! Please give us at least 24 hours notice to ensure your greeting is delivered on the date requested.
The Happy Birthday, Thinking of You, Friendship and Valentines videos will be viewable for 3 days after the requested delivery date. The winter Holiday videos will be available for 5 days. Note that for the Side by Side videos, the email message will be different depending on whether you are sending it as a Valentines Day greeting or a Friendship greeting. The video will be the same.
Complete the form below with the details for the VideoGram delivery. After submitting the form you will go to a page where you can pay for your VideoGram. Select the VideoGram type then click Buy Now. Choose PayPal or pay by credit or debit card (Guest Checkout) and enter payment information. Your information will be processed and managed securely by PayPal.
You will receive email confirmation of your order and a copy of the VideoGram sent to your recipient.
___________________________________________
VideoGram Order Details
Be sure to pay for each order before entering a new one. When you submit this order form, the payment page will be displayed. Scroll down and complete payment, then return here to submit another order.
_____________________________________________________
Join our mailing list to be notified of VideoGram specials or new VideoGrams as they become available. We promise not to spam you or share your contact information.